Let me start off by saying that I absolutely love The Pampered Chef. I love so many of their products that I didn't even think twice when it came to buying their rotary grater. This grater is ergonomically designed, can be used by someone who is left or right handed and is advertised to shred cheese, chocolate, nuts, carrots and zucchini.
One of my main reasons for buying this product is that I have an eight year old girl who loves to "help" me in the kitchen and one of her all time favorite things to do is shred the cheese.
It's not because she's extra helpful, she just loves cheese and sees this as an opportunity to sneak a few bites but I'm always worried that she would cut her fingers on my old fashioned grater. So when I saw this new grater, I was thrilled at the safety features.
All she'd have to do is place the food inside and turn the handle while her little fingers stayed safe, catastrophe averted. On paper, there was nothing that I didn't like about this product but fast forward to a few weeks later when we were all set to make enchiladas and were going to give our new grater a whirl. That's when everything went downhill.
Ergonomic, Ergoshnomic
While this product is advertised to be "ergonomic" because of it's curved and grooved handle, it turned out that it made our hands want to beg for mercy. In order for the food to shred, you have to press down hard! And when I say hard, I mean hard! But you can only do this for so long before your hand starts to spasm and shake.
We found that we had to keep stopping every few minutes because our hands hurt so bad from having to grip it tightly. My daughter couldn't even hold it but for a minute before she handed it to me and I didn't last much longer. I had to keep switching it from hand to hand and even though it's built to be for both left and right handed people, that only works if you keep it in one hand. If you have to switch due to all of the pain, it's definitely not ergonomic. In fact, it's a first class ticket to carpal tunnel syndrome!
Waste of Food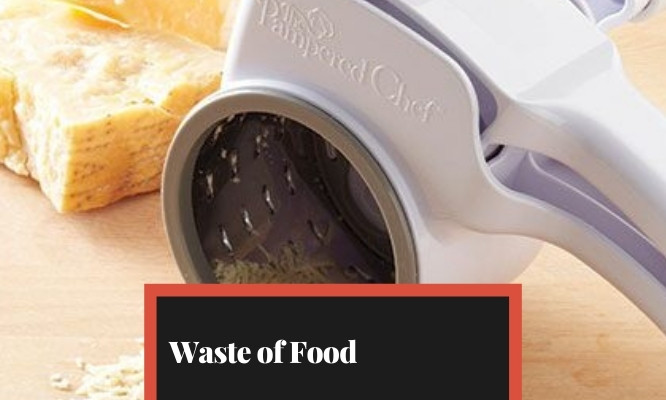 Like I said, we had to keep pressing really hard so that the food would shred and even when we did, this grater left a large chunk of food that it just would not cut. This meant that I had a bunch of wedges of food that I had to figure out another way how to shred. It was wasteful and inconvenient to have all of this left over food and I ended up having to pull out my trusty old fashioned grater. I got leftovers whether I used cheese, zucchini or nuts. Well, at least for the stuff that my daughter didn't gobble up.
I must also mention that because of it's size, you can only insert a small amount of food which means that you have to cut everything up before you put it in, struggle with it to shred and then figure out what you get to do with the leftovers! It's very inefficient.
No Cheese For You!
I know that this product isn't listed as cheese grater but after all, what do most of us "grate". It's nice that it grates nuts and zucchini but I would never buy a grater and use it only for that. I want something that will help me grate the blocks of cheesy deliciousness that I top on my tacos! Unfortunately, this grater didn't do well with cheese. It stuck together and even though the bi-directional blades aren't supposed to clog, that's exactly what they did. Even the driest cheeses got stuck in the drum.
The cheese that did survive was so paper thin that I couldn't shred and then set aside which means that I couldn't use this for at least half of the things I make which require shredded cheese. I did have some luck with a block of Parm.
A lot more cheese got through the grater but I still had to unblock some of it. I also tried shredding zucchini which was too wet and clumpy and nuts which were okay so long as they weren't oily. If anything is too moist or too juicy or too oily it won't work…which pretty much eliminates anything that I was going to shred with it. I'm going to start using it in my office to shred my old checks instead.
I haven't used my grater ever since I struggled with it. It's inconvenient. No, scratch that, it's a hassle! Every time I reach in my drawer for it, I remember the trauma and frustration of the past and put it right back in the drawer. It works sort of but not enough to make it worth buying. When I spoke to a consultant about this and she pretty much confirmed my issues. I know that The Pampered Chef works hard to make the most efficient and durable products; however, this one slipped through the cracks. I'm sure they'll come out with a newer one soon but until then, save yourself the $19.50 and go with an alternative.