A good casserole dish enhances food's flavors and makes cooking a fun and easy process. Casserole dishes, often known as Dutch ovens, come in an array of shapes, materials and sizes and are accompanied by a well-fitting lid. You can simplify your cooking techniques by using a casserole that fits your family and cooking requirements well.
Casserole dishes are made out of a variety of materials like enamel, ceramics, glass, cast iron and stainless steel. An advantage of using stainless steel, cast iron and enamel cookware is that they can be used on the stove top to saute vegetables and brown meat as well.
Glass and ceramic casserole dishes on the other hand are light and ideal for using in the microwave. You can also use glass cookware to freeze dishes and to serve it directly on the dining table. A great recipe that you can try making in a glass casserole is a lasagna featuring layers of pasta, sauce, vegetables and cheese.
Another traditional way of making delicious casseroles is by using clay pots. Clay pots help you make tender and juicy food in less amount of time. You can bake fish, meats, stews, casseroles and a variety of breads in unglazed clay pots.
The cast iron casserole is another great alternative. This versatile pot features an excellent heat quality and can be used on the stove top as well as an oven. Whether it is for everyday dining, parties or potluck, casseroles can help you prepare a variety of cuisines in a matter of minutes.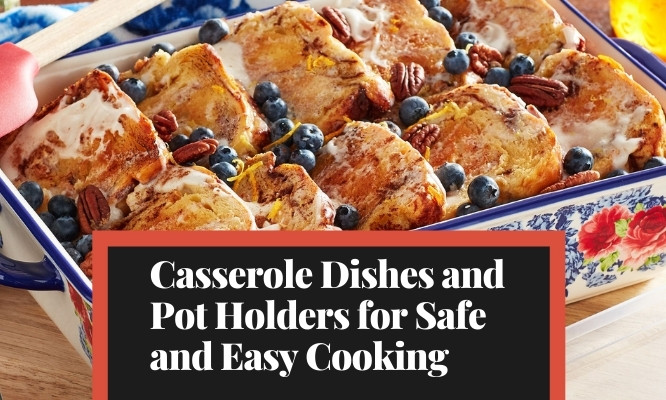 When cooking, it is essential to guard yourself from burns in order to enjoy cooking. Consider getting a pot holder to transfer the casserole dish from the oven to the dining table. Pot holders are offered in various colors and styles.
Quilted pot holders that are made using different fabrics and designs are a popular choice. You can also opt for plain pot holders that feature a minimal design or choose something that matches the other kitchen accessories. You can also make a pot holder at home using a fabric that has layers of soft padding on the inside to protect your hands.

Make delicious meals at home with the help of pot holders and casserole dishes.