A cool margarita, whether frozen, straight up or on the rocks, is the best way to enjoy the summer. Host a fun margarita party for family and friends and set up a margarita station to whip up delicious cocktails. The poolside, backyard or patio is a good spot for the drinks station. It's easy to set up the station with plenty of glasses, the best ingredients and useful appliances like margarita machines, blenders and juicers. With a mixing station, guests can be encouraged to create their own drinks. Here are some helpful tips to set up a well-stocked margarita station.
Start by stocking the bar with the essentials – margarita glasses and pitchers. Choose simple glasses and pitchers so they can be used for different occasions.
Clear glass or shatterproof polycarbonate glassware is a great choice for outdoor entertaining. The essential bar tools for the margarita station include cocktail shakers, jiggers and ice buckets. The shaker and jigger are needed for measuring and mixing the drinks while the ice buckets are helpful for keeping ice at hand for on-the-rocks margaritas.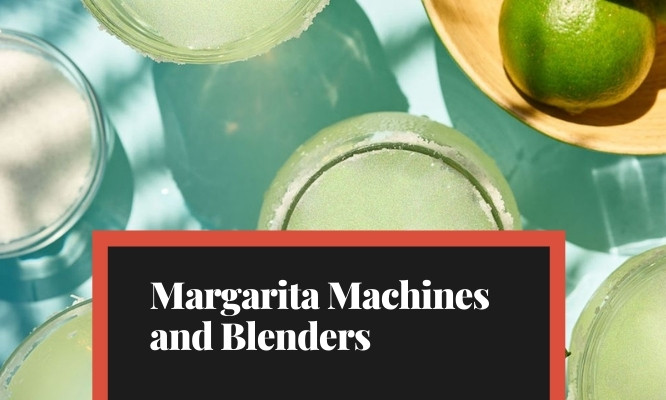 Good-quality appliances like margarita machines, juicers and blenders are essentials for the margarita station to make delicious frozen drinks. Margarita machines are excellent options for you if you entertain often as they can whip up frozen concoctions quickly with their preset programs and large ice reservoirs. The machines are multipurpose as they also have presets for daiquiris, mojitos and smoothies. If you are using blenders, choose powerful ones that can make large batches of margaritas for the party.
Using fresh juices in margaritas improve the flavor and texture of the drinks. Have one to two juicers at hand to make juices for the drinks. Use multi-speed juicers to create different juice consistencies and blends. Citrus juicers are also helpful for making lime juice for the cocktails.
Tequila, liqueur, juices and syrups are essential ingredients for making the drinks. Margarita mixes made from natural ingredients are also a good choice for mixing drinks. Other ingredients for the mixing station include decorative garnishes like olives, lime wedges, cherries and margarita salts. Set up a section for appetizers and cocktail nibblers near the bar so it's easy for guests to enjoy drinks with these cocktail bites. Serve food that will complement different types of drinks. Chips, salsa and guacamole make tasty appetizers along with margaritas.
Let the guests have fun making their own margaritas with garnishes and salts. Set out plates with flavored margarita salts and sugars along with lime wedges for your guests.