There's nothing like a fresh hot pizza just out of the oven. Crispy crust, melted cheese and bubbling sauce. But it's always a chore to cut the pizza and get it neat and straight in the perfect size slices. Sometimes pizza wheels don't cut all the way through to the bottom, and sometimes the cheese slides off along with the rolling action of the pizza wheel.
And there's nothing more annoying than a pizza wheel blade that has gone dull and does half the job it should. Many people tend to buy cheap pizza cutters (under $5), because they all look like they will work.
And they all do, in the beginning. But what you learn over time is those cheap pizza cutters get replaced frequently, and you end up spending more than had you just bought a quality one in the first place. Here is a comparison of some of the better pizza cutters all priced between $12 and $15.
KitchenAid Large Pizza Wheel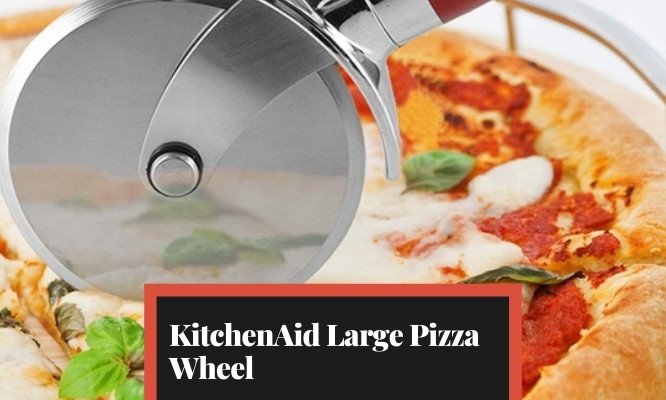 The KitchenAid Large Pizza Wheel comes in a variety of colors and has a stylish and sleek design. It is sturdy and the stainless steel blade is 4 inches diameter. It also has a Lifetime warranty against defects, with 1-year no-hassle, no-cost replacement. It is also dishwasher safe. It's priced under $15.
The KitchenAid Large Pizza Wheel works great for cutting deep dish and Sicilian style pizzas and it gives a precise clean cut. The blade is sharp and has stayed sharp after dozens of uses. It also comes with a neat little cover because it is so sharp, you wouldn't want to accidentally cut your fingers while reaching for something else in your kitchen utensil drawer. It cleans easily and feels comfortable to use. It is also designed where you can hang this tool if you prefer to store it that way. Sharp and durable and generously sized, this pizza wheel cutter works great.
Dalla Piazza XL Pizza Cutter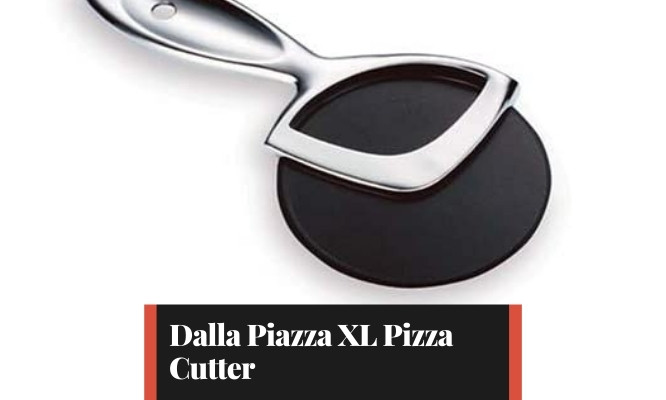 The Dalla Piazza XL Pizza Cutter is priced under $15 and is also a large pizza wheel. This pizza cutter, although stainless steel, has a non stick coating. It is dishwasher safe and covered by a 5 year guarantee from the manufacturer. Dalla Piazza Pizza Cutter has a professional weight and a stylish contemporary design and feel.
It is comfortable to handle. I like how it cuts, and it washes easily, however because of the nonstick coating I am concerned the coating might not last over time. The nonstick coating has stayed fine after several uses though. This is a very attractive pizza wheel that is sharp and works how it should. The Dalla Piazza company is located in Switzerland and makes a number of kitchenware items.
They won an award for design distinction by the Chicago Athenaeum Museum of Design. Adolfo Dalla Piazza who started the company 50 years ago, first marketed Italian made kitchenware in Europe and became noted for his avante garde design combined with innovation. This Dalla Piazza Pizza Cutter is another example of how a common item can have a unique stylish design and still perform well.
OXO Good Grips 4-inch Pizza Wheel for Non-Stick Pans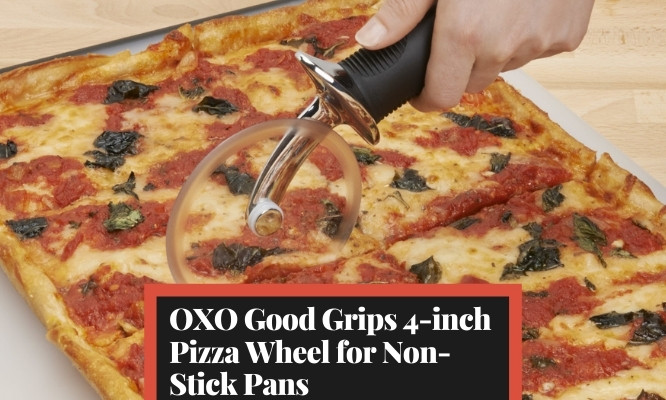 The OXO Good Grips Pizza Wheel is also priced under $15 and is dishwasher safe. The OXO Good Grips unlike stainless steel pizza cutters has a hard plastic wheel. The wheel itself is durable and sharp, however I have found it to become less sharp over time. It feels sturdy though and is comfortable to use, but it requires a bit more muscle than the stainless steel pizza wheels I have tried of this same size. It is designed to work on nonstick pans so that is a plus.
Cuisinart Pizza Cutter with ABS Handle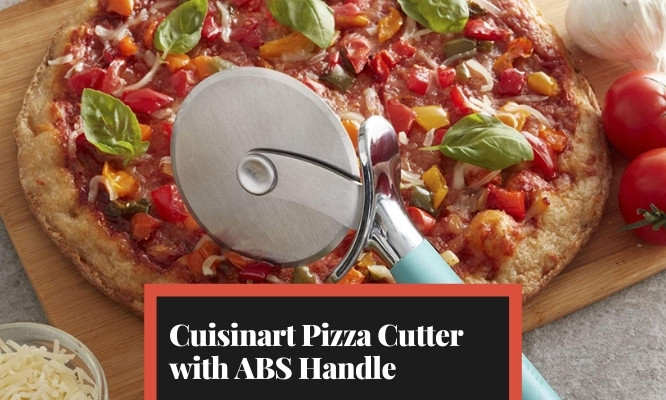 The Cuisinart Pizza Cutter comes in a variety of color handles and is priced under $15. It has a stainless steel blade and a plastic blade guard for safe storage. It cuts through thick pan style pizza and lasagna. The whole design is geared toward safety, however what I don't like about it is I feel it is more difficult to wash. I can't see if the inside of the blade guard has been properly cleaned. It has a 5-year limited warranty. The blade has stayed sharp after several uses. It is durable and although the handle is comfortable to use, I also prefer the handles on some of the other brands.