Kitchen shears can make life a lot easier in the kitchen – they can do a lot of things a knife can do, only more easily and safely.  Try out these suggestions and see your kitchen chores revolutionized!
Steps
Purchase a good pair of kitchen shears. Try department stores, box stores, kitchenware specialists.
Put the shears in the kitchen in an easily accessible place. A knife block hole is usually a great place as they can be retrieved quickly and they won't be made blunt by sitting in the block.
Use the shears in place of a knife for the following:
Snipping fresh herbs such as chives, basil, parsley
Chopping up whole tomatoes from a can – a big money-saver and you get the tomatoes chopped in no time
Cutting pizza wedges or between slices of a baked product
Snipping off the tops of all those pesky packages, ties around noodles/bread & cutting open uncooperative packaging
Trimming phyllo (fillo) pastry, sushi wrapping etc
Cutting slices of ginger or garlic pieces
Cutting cheese cubes
Cutting fresh pasta, especially between rows of ravioli or for shortening spaghetti lengths
Cutting slices of meat into small cubes
4. Wash the shears after use in hot, soapy water and return to their storage spot for fast retrieval
Tips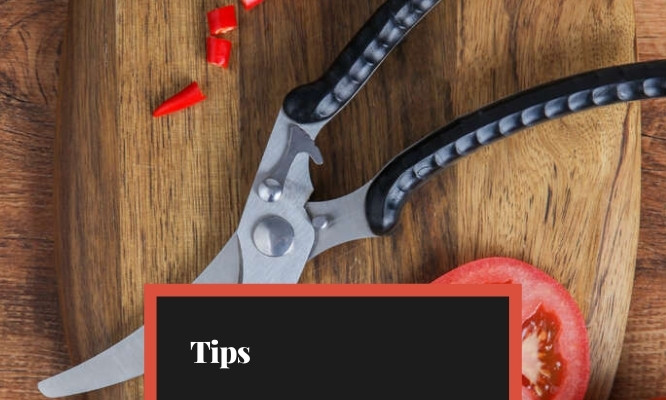 To avoid the temptation of using the kitchen shears for cutting paper or any other household object beyond kitchen preparation, it is helpful to place a second pair of scissors in an accessible location that will stop other household members from using the kitchen pair.
You'll come up with other ways to use the kitchen shears; once you have them handy, they become indispensable.
Warnings
Take care when using shears to keep fingers away from the blades.
Things You'll Need
Kitchen shears
Storage spot for scissors that is easy to access near cooking area
Acknowledgements
I am the original author of this article; it can also be found on another website I have shared articles with.