In the 1660s, the earliest known reference to a tool to draw corks out of bottles, was known as the "Steele Worme." Even today, the screw part of the corkscrew is often referred to as a worm. While corkscrews of a type were being used in the 17th century, it wasn't until 1795 that a patent was granted to Samuel Henshall in England. There were numerous types of corkscrews being created in the 1800s, with an wide assortment of mechanisms, but the T-shaped handle was the standard form.
Miniature Cork Screws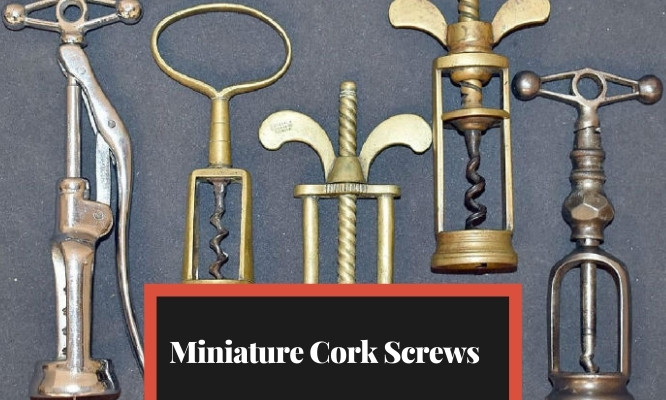 There were even miniature corkscrews for ladies, created to remove the corks from perfume bottles, and these stayed in use until the early 20th century. Collectors are greatly interested in the miniature corkscrews and they are highly sought after.
A collector will be lucky to find an antique miniature corkscrew for less than $20. And the more unusual, detailed and rare miniature corkscrews can reach $100. Collectors look for those in good condition for the best investment. But expect some minor age wear, like tarnish, or a tiny chip on a carved mother-of-pearl handle.
18th Century British Corkscrew Style
18th century regional corkscrew styles varied from country to country. The British corkscrew makers and purchasers, preferred the helix design of corkscrew or worm. They were often copper-toned over steel.
By the mid-18th century, both English and Irish corkscrew makers were designing with clean classical lines. Silversmiths were making handles with depictions of animals or they were monogrammed. Some silver-handled corkscrews with fine details of animals or other fancy figural work, can fetch as much as 100s of dollars. These are rare, but do come up at auctions or online, as well as antique stores.
Collecting Thomason Corkscrews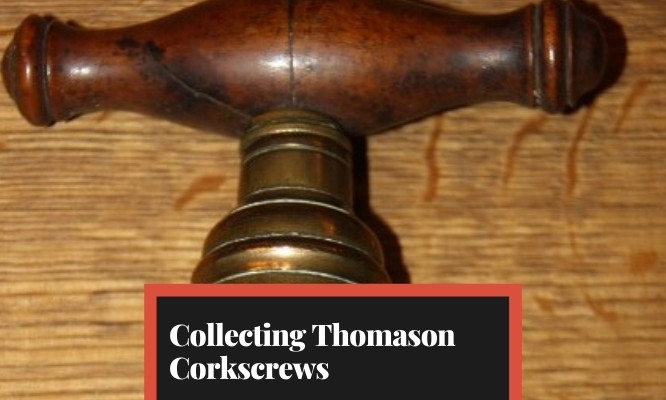 Collectors love the Sir Edward Thomason corkscrews created in the early 1800s. These were beautiful and fascinating little works of mechanical art. There were only 16 Thomason designs and according to his memoirs, 130,000 were manufactured. This is considered mass-production, so they aren't as rare as some corkscrews from the period. 200 years later they do have value for their beauty. Expect to pay up to $1 K or more for a very good rarer example of a Thomason corkscrew.
Regional Corkscrew Style
In Germany, corkscrew makers were designing them the the screw or worm in the center which was practical and easy-to-use. The screws were generally made of nickle.
In the Early 19th century, the French corkscrew makers were designing very detailed silver-work on their handles. France even has a museum in Mènerbes devoted to corkscrews.
Many of the Italian handles were made of brass and were quite large. The United States did not begin to make fine corkscrews until the late 1800s. The center mount was preferred and often with a stag horn handle.
Collecting Antique Corkscrews
There are many niches of corkscrew collecting. Whether from a certain period, region, material and other criteria, there are things to keep in mind when purchasing. Condition always a role in the purchase, especially in expensive and rarer pieces. Most collectors put value in the impressions in the metal or other material, like patents, type, manufacturers, coats of arms, silver hallmarks, age, quality or place of origin.
Displaying an Antique Corkscrew Collection
If collecting only one niche, consider individual shadow boxes. The corkscrews can easily be held to the backboard with string.
A museum case can be created on a long narrow table, by building up the table with framing, adding glass, finishing it off with mill work, and painting or staining the case for fluid piece of furniture.
Internet search engines bring up a variety of corkscrew stands for the collector which make an impressive display on a shelf or table.
Where to Find Antique Corkscrews
The best place to find a really good selection of antique corkscrews in on eBay. Use "antique corkscrew" as the search term and it will generally reveal several pages of listings. Be aware that even though it says antique, it may only be vintage or an antique reproduction. Ask lots of questions. Collectors learn the difference with experience.
Antique shops, estate auctions and flea markets generally turn up a few and a search on line will bring up several dealers who specialize in antique corkscrews.